3 Last Minute Thanksgiving Dishes
Posted by Kevin DaSilva on Monday, November 22, 2021 at 4:12 PM
By Kevin DaSilva / November 22, 2021
Comment
3 Last Minute Thanksgiving Dishes
#1 Honey Garlic Roasted Carrots


Ingredients:

2 pounds thin/baby carrots peeled, tops chopped off or to 2 inches*
1/4 cup apricot preserves
2 tablespoons honey
2 tablespoons olive oil
1 tablespoon butter, melted
1 teaspoon balsamic vinegar
1 teaspoon McCormick Garlic Powder
1/4 teaspoon McCormick Ground Mustard
1/4 teaspoon McCormick Thyme Leaves
1/8 teaspoon McCormick Ground Cumin
3/4 teaspoon McCormick® salt
1/8 teaspoon McCormick® pepper

Instructions:
Preheat oven to 375 degrees F. Either line a baking sheet with foil and lightly spray with nonstick cooking spray OR spray your baking sheet with cooking spray. Add carrots to the center. Set aside.
In a medium bowl, whisk together all remaining ingredients and pour over carrots. Toss until evenly coated. Line carrots in a single layer. Bake for 30-45 minutes depending on carrot thickness, until fork tender, stirring after 20 minutes.*** Roast longer for more caramelization. Garnish with fresh parsley if desired.
#2 Sauteed Mushrooms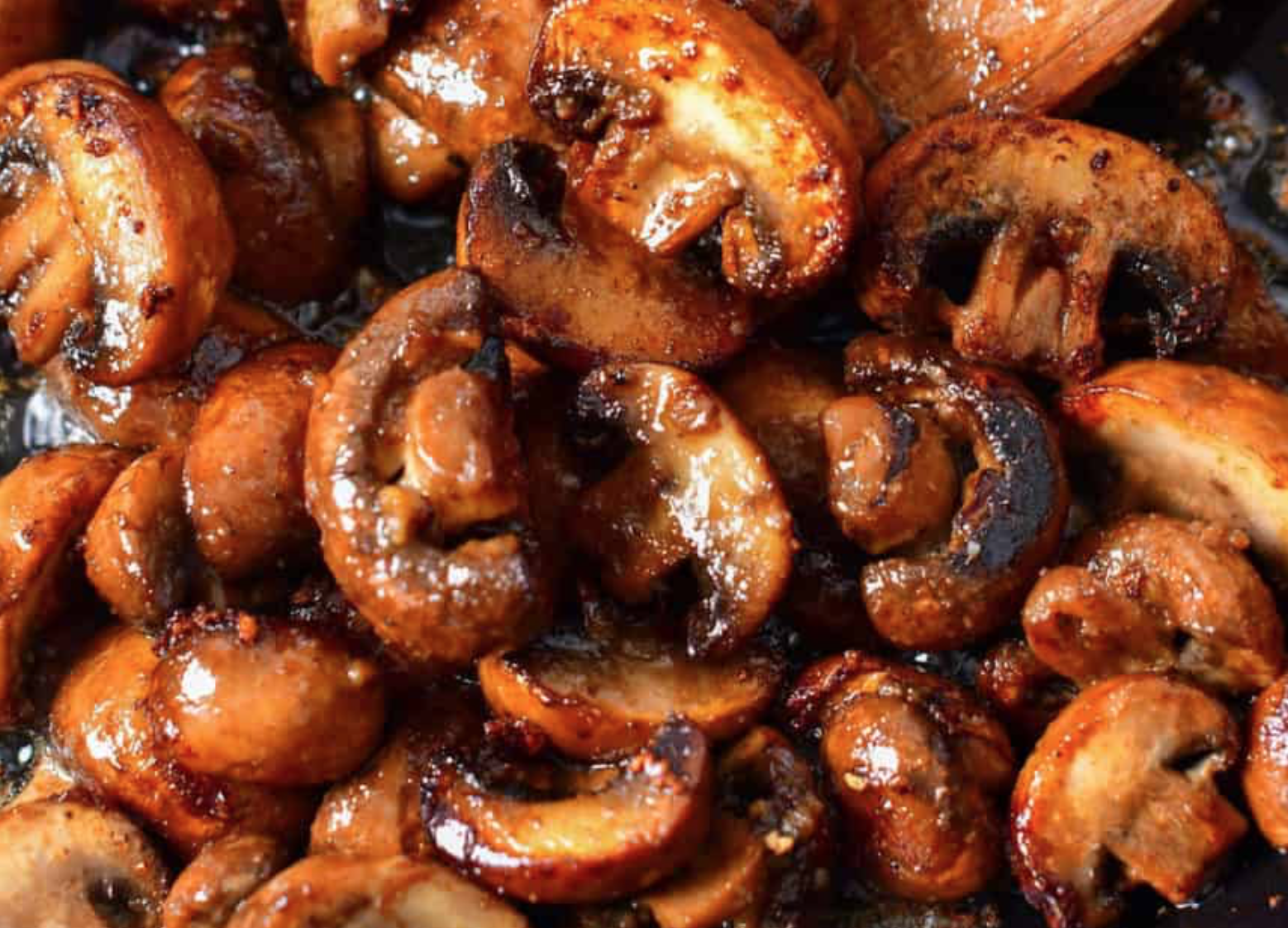 Ingredients:
16 oz cremini or white button mushrooms
3 cloves of garlic
1/2 tsp garlic powder
1/4 tsp black pepper
salt to taste
1/2 tbsp avocado oil to toss mushrooms
1 tbsp avocado oil for cooking
1 1/2 tbsp unsalted butter
minced parsley for garnish
Directions:
Rinse whole mushrooms under cold water quickly and pat them dry with a paper towel right away.
Cut mushrooms into half, or quarter if they are very large, and add them to a mixing bowl.
Toss mushrooms in 1/2 tbsp. of oil to coat them and then add pressed garlic cloves, salt, pepper, and garlic powder. Mix well to coat mushrooms evenly.
Preheat the skillet first, over medium-high heat.
Add a tablespoon on oil and spread it around. Add mushrooms in an even layer and let them sauté, undisturbed, for a few minutes to get a nice sear on them.
Add butter and let it melt. Once butter is melted, mix mushrooms and let them sauté again, undisturbed. Keep mixing once in a while, but not too often, letting mushrooms get a sear each time. Depending on the size, it will take 7-10 minutes to cook mushrooms.
Once mushrooms are done, take them out and serve. Garnish it with some parsley if you'd like.
#3 Garlic Bread Hawaiian Rolls
Ingredients:
4 Tbsp Butter, melted
2 Tbsp Parsley, finely chopped
4 cloves Garlic, finely chopped
9 Hawaiian Rolls (like King's brand)
Instructions:
Preheat oven to 400°F.
Combine melted butter, parsley, and garlic.
Place rolls in an 8" x 8" baking dish (there will be some space between the rolls and the sides of the pan.
Cut a deep X in the top of each roll.
Slowly poor the herb garlic butter over top of the rolls, making sure to get some in the X on top of each roll, and letting some drip down the sides.
Cover rolls tightly with foil and bake for 15 minutes.
Remove foil and continue baking for an additional 6 to 8 minutes, until tops of bread are deep golden brown and toasted.
Serve immediately.